Moringa oleifera
the 2nd generation biodiesel feedstock
----- Prospects for profitable sustainability
CJP is dedicated to the development of oil seed bearing trees [OSBT] - non-food multiple vegetable oil plantation and technologies in order to reduce Dependence on fossil fuels, bring greater control and security of fuel supply and reduce dangerous climate changing emissions, including CO2. CJP's Jatropha and other non-food oil crop plantation program. With an effort to 'grow beyond oil ', apart from Jatropha, CJP has identified, developed and cultivated as many as 15 oil seed bearing trees [OSBT] and non-food oil crops. With years of continuing research, experiments and trials has provided an adage to find and develop 2nd generation biodiesel feedstock with low cost input technology. After having a number of successful field trials CJP has honor to establish Moringa oleifera - another potential feedstock for Bio- Diesel industry of future because it could serve as food and an oil source for biodiesel.
Moringa oleifera is a very fast growing tree; it commonly reaches four meters in height just 10 months after the seed is planted and can bear fruit within its first year. Its pods are triangular in cross-section (30 to 50 cm long) and legume-like in appearance. These pods have oil rich black and winged seeds, which can be crushed to produce biodiesel. Moringa could yield +3 ton oil per ha and that it could be used for food in times of shortages. The seeds contain 30 percent to 40 percent oil that is high in oleic acid. The meal yields about 61 percent protein. Biodiesel made from Moringa has better oxidative stability than biodiesel made with most other feedstocks the crop's multiple dimensions would make it attractive to farmers worldwide. It does produce a lot of seed, and it produces well in areas that need income. Other than biodiesel, the pods can also produce edible (in fact, highly nutritious) seeds and leaves. In addition, some parts of the plant have medicinal purposes, and the sap can potentially be used as a dye. Their pods are harvested, meaning that the trees keep on growing, using water and reducing the high water table whilst sequestrating carbon.
Considering Moringa's potential as an oilseed feedstock for biodiesel CJP has honor to establish this untapped resource as alternative source for Bio- Diesel industry of future.
The Moringa oleifera trees must be regarded as a sure source of 2nd Generation Biodiesel and the foundation around which a profitable Business plan can be built for its ability to provide large amount of oil and its pure hardiness and stress handling ability. The Moringa oleifera tree that has enough credentials: a higher recovery and quality of oil than other crops, no direct competition with food crops as it is a edible source of fuel, and no direct competition with existing farmland as can be grown for both purpose same time
Distribution and Habitat
Moringa oleifera Lam is native of India, occurring wild in the sub-Himalayan regions of Northern India, and now grown world-wide in the tropics and sub-tropics. It is already an important crop in India, Ethiopia, the Philippines and the Sudan, and is being grown in West, East and South Africa, tropical Asia, Latin America, the Caribbean, Florida and the Pacific Islands. Commonly known as the 'horse-radish' tree (arising from the taste of a condiment prepared from the roots) or 'drumstick' tree (arising from the shape of the pods), M.oleifera has a host of other country specific vernacular names, an indication of the significance of the tree around the world.
Ecological Requirements
Climate
Moringa is widely adapted to the tropics and subtropics. Optimum leaf and pod production requires high average daily temperatures of 25–30°C (77–86°F), well distributed annual rainfall of 1000–2000 mm (40–80 in), high solar radiation and well-drained soils. Growth slows significantly under temperatures below 20°C (68°F). Minimum annual rainfall requirements are estimated at 250mm with maximum at over 3,000mm, but in waterlogged soil the roots have a tendency to rot. It can be found from 30º north to 20º south and it grows best at altitudes up to 600m but it will grow at altitudes of 2000m. It is usually found in areas with a temperature range of 25°C to 40° C but will tolerate 48° C and light frosts. Moringa is relatively tolerant of drought and poor soils, and responds well to irrigation and fertilization.
Soils
Moringa tolerates a wide range of soil types and pH (4.5–9), but prefers well-drained soils in the neutral pH range. It can grow well in heavy (clay) soils provided that they do not be¬come saturated for prolonged periods of time. Light (sandy) soils are preferred for rooting branch cuttings directly in the ground. It can be established in slightly alkaline soils up to pH .9. In areas with heavy rainfall, trees can be planted on small hills to encourage water run-off). Presence of a long taproot makes it resistant to periods of drought
Agronomy
CULTIVATION TECHNOLOGY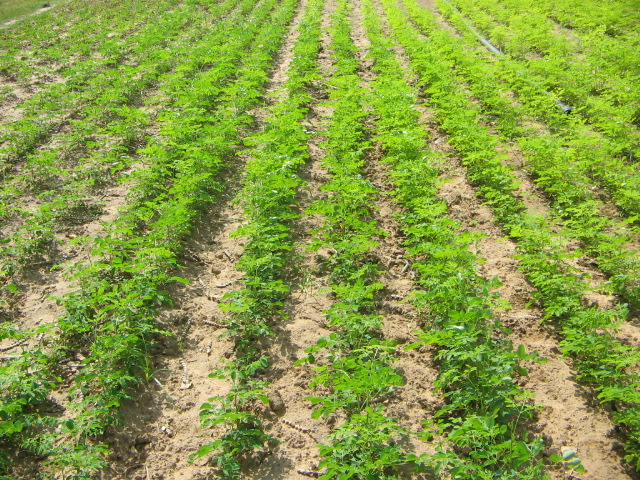 The Moringa tree is native to India but has naturalized across tropical and subtropical regions. The tree has incredible nutritional value, low demand for water and prolific growth and biomass production. As the seeds do not form a staple food source, the food for the people or food for fuel issue is argued to be not relevant. Also, the tree is able to grow in marginal lands and the leaf litter has the potential to improve the quality of the soil and is documented as having improved the size and quality of vegetable crops that have been intercropped with Moringa.
The productive plantation of Moringa needs to be scientifically managed for better growth and production. The growth and yield of the plant could be improved through effective management practices. The enhanced cultivation technology and improved inputs developed by CJP may provide about 4000 liters of biodiesel without displacing food crop and without utilizing prime food land in terms of sustainable farming techniques
The key factors that can influence the oil yield of Moringa are:
High-quality stock from superior

Genotype
CJP carefully manages moringa cultivation, with advanced crop practices suitable to local soil, weather, pest, and disease conditions to ensure the high amount of oil as we have developed enhanced technology with regards to:-
Planting materials & other inputs

Pest & Diseases management.

And finally grading for further process
The key factors governing profitability of large scale production are:
Selection of high yielding varieties with suitable marketable quality .

Sowing in a proper season, in compliance with the latest agro techniques .

Management of ratoon crops

Adoption of post harvest management.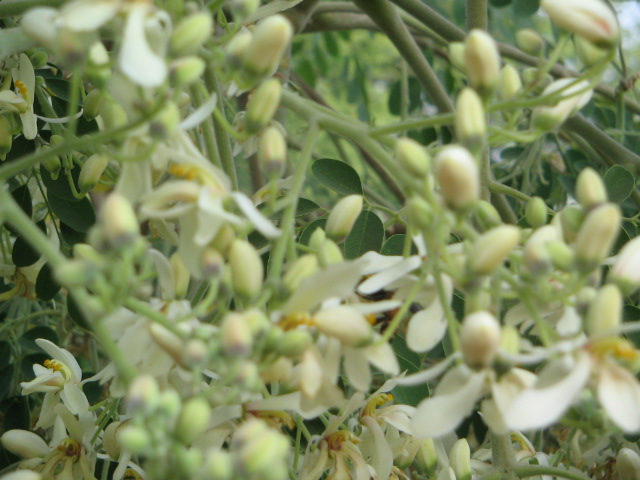 CJP's Researchers have developed standardized techniques for growing Moringa oleifera on large scale. CJP ensures Organic moringa plantation right from the land preparation, crop management to production of end product. CJP Moringa Farms are under the vigilant supervision of agronomists, who make sure that the latest and best breed of Moringa oleifera is being planted. However, we keep a close watch on the research results of Moringa breeding by studying thousands of Moringa variants, identifying and collecting the best sources of high-quality to guarantee a consistently high yield, a stem, or scion, from a tree with a demonstrated capacity to produce many pods/seeds. This not only removed the uncertainty from the yield, it also provides multiple harvests within a few months. Accordingly, the enhanced variety of pkm-1 and pkm-2 with regards to seed yield and oil yield and the enhanced MO Cultivation techniques may ensure proper and profitable production of THE OIL CROP providing early fruition and flowering—
CJP is happy to provide "Moringa Cultivation Technology" at an affordable Price
Moringa Crop Information Growing & Care Instruction Manual and Monitoring & management system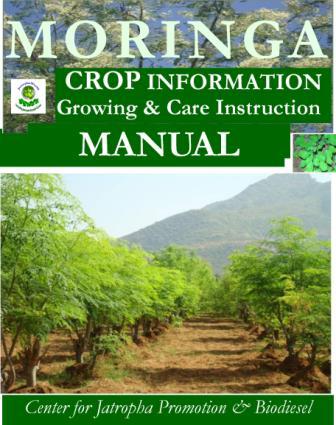 The cultivation, looking after and harvesting plants is an important factor and it requires a lot of knowledge, skill and techniques viz: the best cultivation season to make the plant early matured, then an amount of seeds to be planted, an irrigation & fertilization method, a control method of weeds , investigate quality, yield, and degree of occurrence of several troubles .
As all biological organisms require care and attention, the need to draw Growing Instructions was being felt by all concerned
Therefore keeping in view Various concerns and problems of a new Grower; CJP being "The Centre of Excellence" has designed Moringa Growing & Care Instructions Manual with Monitoring & Management System Diary on the basis of our own tried, tested, developed and experienced Plant Propagation and Cultivation Technologies and Practices to help you grow a Failsafe Moringa Fuel Farm
The Moringa Growing & Care Instructions manual provides basic guidance for the project developers to help ensure successful Moringa cultivation projects.
Proper planning, cultivation and maintenance are the key for growing flourishing plants. Simply putting a plant in the ground is not enough. Careful thought must be given to the purpose of the cultivation, location of the cultivation and how the Moringa will be cared for once they are in the ground.
A properly planted and maintained plant will grow faster and live longer than one that is incorrectly planted. This booklet is organized as a step-by-step checklist of fundamentals to help you with your Moringa cultivation project
We have sincerely tried to put all steps in nutshell and hope it will be a useful tool in growing your Biodiesel Plantation
Both the Moringa publications are available and can be ordered for US$ 200 ( (For payment by PAYPAL add 3.4%+0.30$ )
Order Just Know
Agricultural Extension Kit
CJP has specifically developed and designed a unique kit for MoringaL plantation and crop care for 1 hectare called: "Agricultural Extension Kit" – a key to your fuel farm "just enables & encourages the farmers/ new growers to start the Biodiesel crop cultivation in a right and prefect manner by adopting the concept of "sustainable agriculture".
Moringa Starter Kit:
Moringa Agri- Extension Kit contains
1. SRIPHL MO03 Elite cultivation stock for cultivation in 1 ha
2. an easy- to- follow growing and crop care instructions manual
3. a very typical monitoring and management diary
Moringa Elite Seeds
We are producing important quantities of Moringa Oleifera seeds. We have developed 3 Varieties of Moringa that can be well adapted for a wide range of climates.
- The common variety
- The SRIPHL MO03 PKM1 (annual) variety
- The Maru-Moringa (perennial) variety
The world recognized variety of Moringa PKM1 is an annual variety and there was no established variety for perennial moringa. Just to overcome the situation and evolve a new variety of superior genotype with high oil yield, CJP's Moringa experts was engaged in finding out some perennial type high yielding genotype.CJP CEO Abhishek Maharshi said the organization's research team started the process in 2008 and identified and collected 42 high-yielding Moringa Oleifera candidates and evaluated genetic association and variability in seed and growth characteristics in order to develop improved varieties. The CJP team's Moringa Oleifera work has resulted in evolution of new variety through scientific selection that will enable highly productive plantations of the crop to be grown.
The new moringa variety has named as MARU-MORINGA as maru represent the desert and our new moringa needs low inputs. Characteristics of Maru Moringa: First yield starts in 4 to 6 months after plantation & gives commercial yield up to 10 Years. (Per year two seasons)
"We are also seeing very good field trial data for our new variety with traits like better uniformity, improved self-branching, early flowering and higher productivity,"
"CJP's elite Moringa Oleifera variety 'Maru-Moringa (Mmax3)' will yield at maturity as high as 3-4000 liters of oil per hectare,] with proper nutrition and irrigation."
you can book your seed requirement here
MORINGA ECONOMICS
Moringa oleifera: A Viable Biodiesel Feedstock?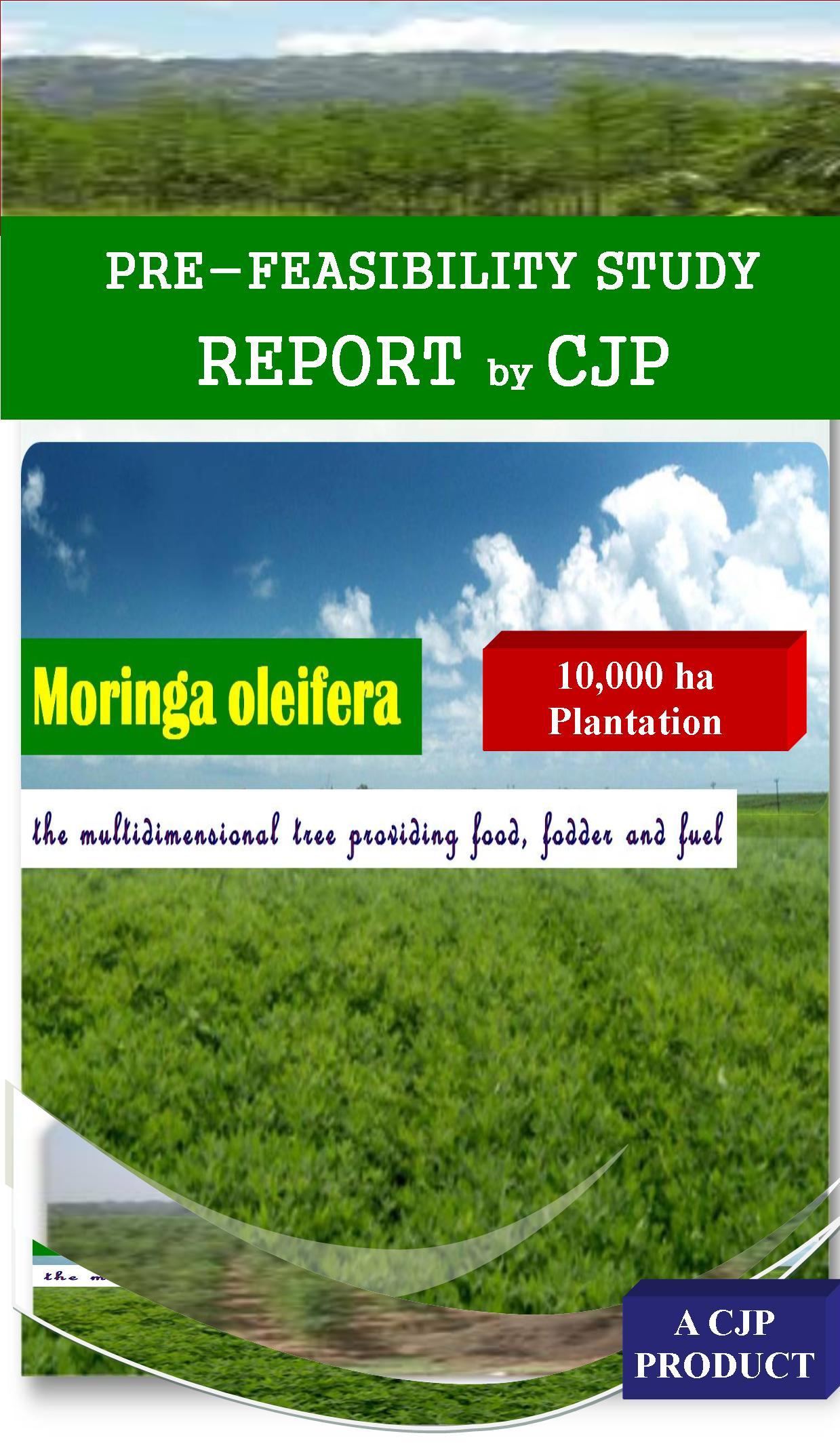 The moringa biodiesel meets all the three criteria any environmentally sustainable fuel must meet. These are social, technical and commercial
The seeds from the Moringa tree contain in excess of 35% oil. The main use of the oil will be as bio fuel and for the production of biodiesel. This oil can also be used for cooking and soap production. Once the oil has been extracted, the seeds can be used as a coagulant for water treatment. The Moringa tree produces green pods; which are edible and the leaves and flowers can be used as a relish. The trees will act as sinks for carbon dioxide and, hence, the moringa plantation will reduce the amount of this greenhouse gas (GHG) in the atmosphere. The project has many other positive economic, social and environmental impacts: There are income generation opportunities that result from the project like the provision of goods and services to the plantation and its workers
THE POTENTIAL RETURNS

As the biodiesel industry grows, honing a cost-effective and diverse feedstock supply stands out as a top challenge. There is a need to diversify the sources and methods used to generate biofuel products to achieve food security, energy security and sustainable development and carbon savings. Biodiesel producers are looking for alternative feedstocks which are non- agricultural and non-food crops. And Moringa oleifera has the ability to substitute the requirement of low cost feedstock with the potential for high oil seed production and the added benefit of an ability to grow on marginal land. These properties support the suitability of this plant for large scale vegetable oil production needed for a sustainable biodiesel industry.
Yield is a function of light, water, nutrients and the age of the Plant. Good planning, quality planting material, standardized agronomy practices and good crop management may handsomely increase the yields.
Moringa will yield at Maturity as high as +3 tons oil with proper nutrition, and irrigation. This is truly an exceptional amount of oil from an agricultural cropBy using Moringa tree for biodiesel production and then utilizing the waste for further oil extraction. Using current proven sate of art agronomy, enhanced cultivator and technologies developed by CJP, the biodiesel from Moringa would be economically viable.
The Moringa Biodiesel can be produced less than US$ 40 per barrel without taking into account by-products revenue. If we credit the revenue from by-products like press cake, glycerin, leaves etc. biodiesel can be produced @ no cost, see detailed economics
.Yield Estimates: Moringa oleifera
Approximate Yield/hectare

Optimal yield

1st year

Seed yield

9 tons

Oil (36% of Yield) ton

3.2 ton

Biodiesel ton

3.2 ton

Table 2 : ECONOMICS : MORINGA 10,000 ha at a glance

Production of seeds/ha tons

8

9

9

9

9

9

9

Year

1

2

3

4

5

6

7

Land under cultivation

10,000

10,000

10,000

10,000

10,000

10,000

10,000

MO Seeds (in tons)

80,000

90,000

90,000

90,000

90,000

90,000

90,000

Crude OIL

28800

32400

32400

32400

32400

32400

32400

BIODIESEL

28800

32400

32400

32400

32400

32400

32400

Press Cake

48800

54900

54900

54900

54900

54900

54900

Glycerol

2880

3240

3240

3240

3240

3240

3240

CAPITAL

Plantation

5,400,000

crushing

3,000,000

BIODIESEL

9,000,000

TOTAL

17,400,000

SALES

Biodiesel

21,600,000

24,300,000

$24,300,000

$24,300,000

$24,300,000

$24,300,000

$24,300,000

Glycerol

2,160,000

2,430,000

$2,430,000

$2,430,000

$2,430,000

$2,430,000

$2,430,000

Intercrop

600,000

600,000

$600,000

$600,000

$600,000

$600,000

$600,000

Press cake

2,440,000

2,745,000

$2,745,000

$2,745,000

$2,745,000

$2,745,000

$2,745,000

CER-Revenue (Biodiesel)

0

0

0

0

0

0

0

CER- Revenue (Plantation)

0

0

0

0

0

0

0

TOTAL

26,800,000

30,075,000

30,075,000

30,075,000

30,075,000

30,075,000

30,075,000

COGS

Crop care & harvesting

$100,000

$100,000

$100,000

$100,000

$100,000

$100,000

$100,000

Oil extraction

$1,036,800

$1,166,400

$1,166,400

$1,166,400

$1,166,400

$1,166,400

$1,166,400

BIODIESEL

$4,032,000

$4,536,000

$4,536,000

$4,536,000

$4,536,000

$4,536,000

$4,536,000

TOTAL

$5,168,800

$5,802,400

$5,802,400

$5,802,400

$5,802,400

$5,802,400

$5,802,400

PBT

$4,231,200

$24,272,600

$24,272,600

$24,272,600

$24,272,600

$24,272,600

$24,272,600

TAX

$1,269,360

$7,281,780

$7,281,780

$7,281,780

$7,281,780

$7,281,780

$7,281,780

NET

$2,961,840

$16,990,820

$16,990,820

$16,990,820

$16,990,820

$16,990,820

$16,990,820
MORINGA BUSINESS PLAN
CJP's Professional Moringa Business Plan Services
S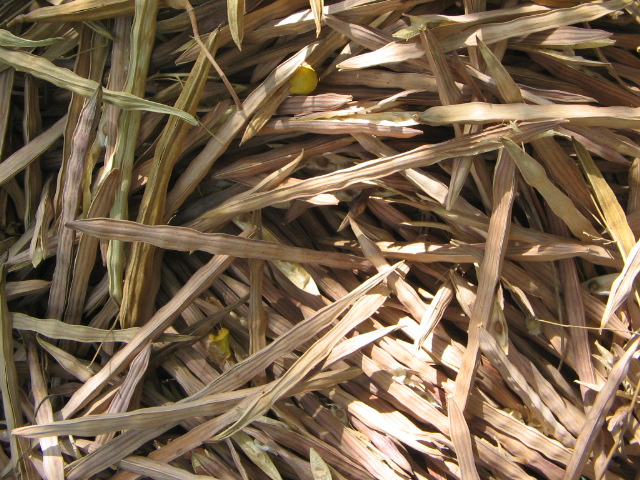 ample/ Ready Built Business Plans
Sample/ready built Biodiesel business plans are drawn in universal scenario based on optimum conditions for growing the biodiesel crop worldwide and on crop specific science, agronomy and economy in wider context
Sample/readymade business plan are available for 20 hectare, 100 hectare and 500 hectare as per details on page http://www.jatrophaworld.org/biodiesel_business_plan_95.html
Feasibility Study Report
We recommend carrying out Feasibility Study Report for project size of 5000 hectares or more to determine the land identification and suitability of growing the Moringa
Customized, Complete & Comprehensive Business Plan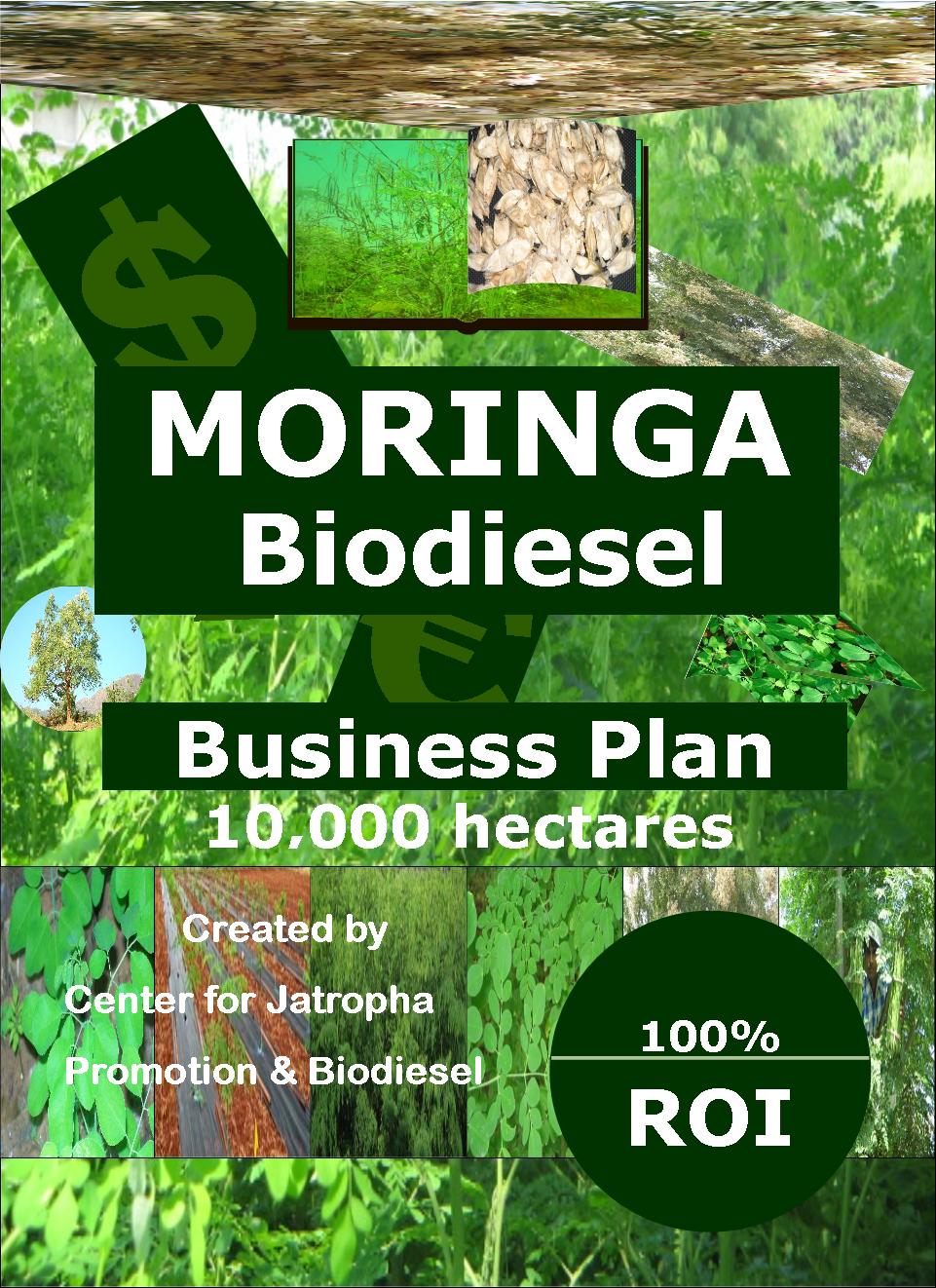 Centre for Jatropha promotion & biodiesel (CJP) has been working in the field of nonfood oil crops promotion for biodiesel production and become a pioneer of Biodiesel nut Plantation &Production. CJP's research findings and on-hand field experiences in respect of various technical, agronomical/silvicultural aspects of plantations of Jatropha and other nonfood biodiesel crops in various categories of land as well under different plantation models have resulted in significant improvements in knowledge and technical background related to Productivity, profitability and sustainability of commercial production of nonfood biodiesel Crops. Based on our proprietary knowledge and extensive experience gained we have developed Based on our proprietary knowledge and extensive experience gained we have developed and enhanced a wide range of Products for creating a "FALESAFE MORINGA FARM"
With its extensive experiences in the field, enhanced technology, plant science & professional knowledge, effective consulting service and business intelligence CJP can clearly understand the business model, products and services, production, marketing and provides all aspects of feasibility analysis and business development including assessments of the following: crop production, crushing, co-product markets, feedstock acquisition and contracting, technology analysis, risk analysis specific to biodiesel technology, feedstock, markets, and general project risks, market and financial analysis.
We make the integration of our experience and professional knowledge with your information. We provide in Depth analysis of crop cultivation and crop care part of plan for which we have team of agronomist and plant scientists, and then we have engineers and experts in biodiesel industries to finish the technology and production part of business plan. We have professionals in accounting to complete financial and economics part. CJP can offer the type of consulting that only numerous years of leadership in the biodiesel market can provide at an affordable price.
CJP can help clients identify the needs, opportunities and solutions of their local, regional and national markets. By identifying these needs and providing management direction, CJP can help in creating a perfect business plan in order to develop and manage an effective and successful biodiesel facility. The most critical component of any business plan is the pro forma, an educated view or projection of what the performance of a company is capable of, given a specific set of assumptions and conditions. CJP has been involved in identifying these needs for specific projects for a number of years and can help develop a realistic and obtainable:
Income Statement
Balance Sheet
Capital Budget
Cash Flow
Break-even Analysis
Sensitivity Analysis
Assumptions Governing the Pro-jections
These projections will be valuable in determining feasibility of the project, securing financing, attracting investment and guiding management so that the company can reach its full potential
For a detailed quote for a complete and comprehensive Moringa Biodiesel Business Plan from Farming to fuel, kindly mail to jatrophaplan@gmail.com.
For further details kindly mail to moringabiodiesel@gmail.com or contact
Assistant Director Moringa, CJP
Tele: +91-9413334600