Simarouba glauca
the 2nd generation biodiesel feedstock
----- Prospects for profitable sustainability
Due to ever diminishing sources of fats and oils, there is the growing need for the search of new sources of oil as well as exploiting sources that are currently unexploited in order to supplement the existing ones. Simarouba glauca a very rapid growing tree found growing in a varying range of climatic condition is a promising tree and has the potential to become a new source of oil.. Tropics endowed with infinite quantity of solar energy are the fountainheads of biodiversity. Some of the tropical regions with fertile soils, receiving good rainfall, have rich rainforests with a great treasure of flora and fauna. Agriculture is lucrative in these regions and here the farmers are generally happy and love farming.
However, there are less privileged geographical regions in the tropics, which receive low and erratic rainfall that cannot support good vegetation even though they are blessed with plenty of sun light. Cultivation of traditional crops adopting recommended packages is very much uneconomical and often disastrous to agriculturists in these regions. Since agriculture is not sustainable, the farmers as well as the landless laborers of these regions are migrating to the urban areas in search of better livelihood opportunities leaving the farm lands fallow.
Several measures are suggested for mitigating this problem. Among them, recommending a low cost input technology for cultivating hardy perennial crops that can grow well even with erratic and low rainfall, still giving assured returns is of great significance. In this context, cultivation of Simarouba glauca DC., paradise tree, Lakshmi taru, aceituno, a multipurpose tree that can grow well under a wide range of hostile ecological conditions, offers a great hope.
Simarouba glauca is an important tree species growing in the forests of Central and South America. National Bureau of Plant Genetic Resources first introduced it in 1960s in the Research Station at Amravathi, Maharashtra. This was brought to the University of Agricultural Sciences, Bangalore in 1986 and systematic Research and Developmental activities began from 1992 onwards.
Considering Simarouba glauca's potential as an oilseed feedstock for biodiesel CJP has honor to establish this untapped resource as alternative source for Bio- Diesel industry of future.
It is wise to cultivate versatile oilseed bearing trees like Lakshmi tharu (Simarouba) with high productivity to meet the edible, industrial and biofuel oil needs of the world, as renewable source, for long term gains. Its cultivation in
marginal/ wastelands generates employment to thousands of farmers, artisans, carpenters, pharmacists and others at village level For this an integrated approach has to be developed involving scientists, growers, industrialists and policy makers
We can have
Biodiesel: from seeds
Ethanol: from fruit pulp
Biogas: from fruit pulp, oil-cake, eaf litter, shell and unwanted branche
Thermal power: from leaf litter, shell and unwanted branches (For electricity generation)
Therefore Simarouba glauca trees must be regarded as a sure source of 2nd Generation Biodiesel and the foundation around which a profitable Business plan can be built for its ability to provide large amount of oil and its pure hardiness and stress handling ability. The Simarouba glauca a tree that has enough credentials: a higher recovery and quality of oil than other crops, no direct competition with food crops as it is a edible source of fuel, and no direct competition with existing farmland as can be grown for both purpose same time
About the Plant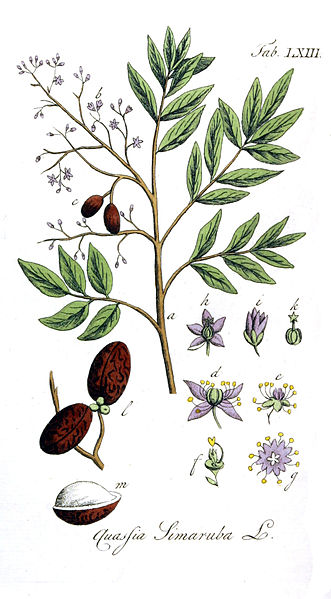 Simarouba is a medium sized evergreen tree (height 7-15 meters) with tap root system and cylindrical stem. The alternate imparipinnate compound leaves have 13-23 leaflets. The plants are polygamodioecious with about 5% of the population producing exclusively staminnate (male) flowers and 40-50% producing mainly male flowers and a few bisexual flowers (andromonoecious) while the remaining 40-50% produces only the pistillate (female) flowers. Flowering is annual beginning in December and continuing upto following February. The trees start bearing when they are 4-6 years old (grafts begin to do so in 3-4 years) and reach stability in production after another 4-5 years. The drupelets are blackish purple in Kaali genotypes and yellowish green in Gauri genotypes and they are ready for harvesting by April/May. Simarouba seeds contain 60-75% oil that can be easily refined, bleached, deodorised and fractionated. It is suitable for edible and non-edible purposes.
BOTANICAL NAME - Simarouba glauca DC
FAMILY – Simarobaceae
COMMON NAMES - Simarouba, Aceituno, Paradise tree.
DISTRIBUTION
It is found growing under wide range of conditions from South Florida to Costa rica in Central America, Kenya and Burundi in central Africa. In India it is in cultivation/plantation in Orissa and also at introductory stage of plantation in other states like Andhra Pradesh, Karnataka, Maharashtra, Tamil Nadu, Rajasthan and Gujarat.
CLIMATE AND SOIL
This tropical tree grows from sea level upto 1000 meters above sea level in all types of well drained soils with pH varying from 5.5-8.0. However, a minimum of 1.0 meter deep soil is preferred for its better growth. It has established in regions with 500 mm to 4000 mm annual rainfall. Simarouba is grown on wide varieties of soils. Any well drained soil is suitable for its growth but good loamy soil, red loams and red laterites are preferred for better growth and productivity.
BIOPHYSICAL LIMITS
Elevation range

lower: sea level

upper: about 1,500 m (4,921 ft)

Mean annual rainfall

lower: 300 (12 in)

upper: 4,000 mm (160 in)

Rainfall pattern

Adapted to monsoon rainfall patterns.

Dry season duration (consecutive months)

Well-established trees can tolerate long periods of drought

Mean annual temperature

lower: 15°C (68°F)

upper: 30°C (86°F)

Minimum/Maximum temperature tolerated

Growth is frost sensitive and established trees can survive low temperatures of 0°C (32°F) for short periods with the loss of new growth. Can tolerate 48°C
Agronomy
CULTIVATION TECHNOLOGY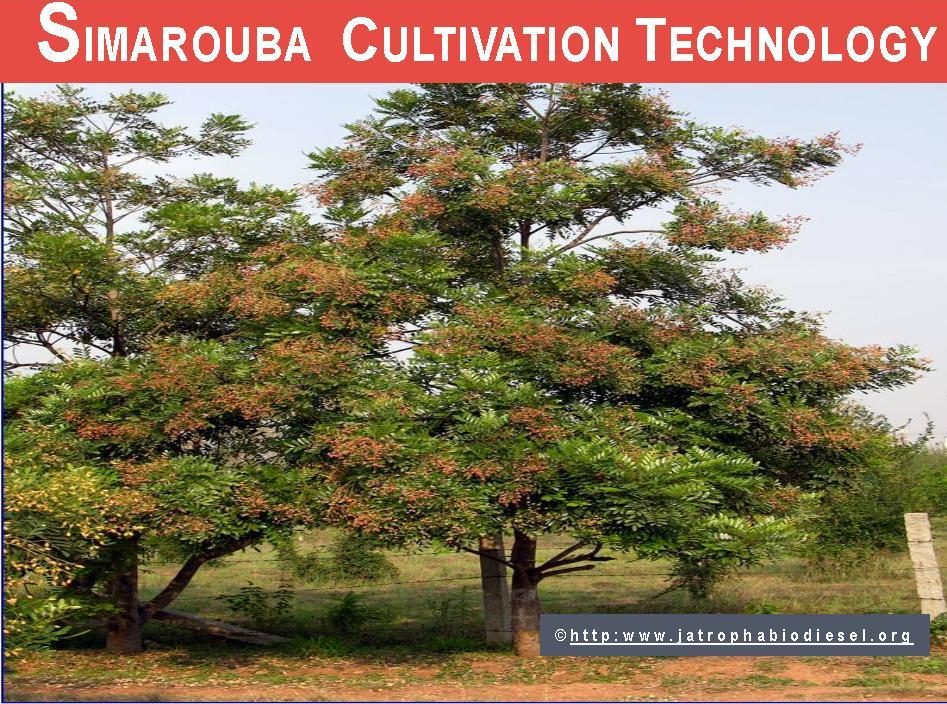 The cultivation of Simarouba depends upon the rainfall distribution, water-holding capacity of the soil and possible sub-soil moisture and a temperature range of 50-450C. Lakshmi taru can be cultivated in tropical regions all over the world. It grows from seacoast to an elevation of 1500 meters above sea level.
The paradise tree can adapt itself to varying soil conditions, from sandy, lateritic, gravelly to black soils and with a pH ranging from 5.0 to 8.5. It can grow in degraded soils which are very poor in nutrients and too dry and unsuitable for cultivation of other crops. It can grow in all types of soil with moderately good porosity (proper drainage). Topographically, it can grow in planes, hill slopes with shallow soil (with a minimum of 1.0 meter depth), undulating terrains unsuitable for cultivation, of course with a proportionate variation in its yield potentialities. Simarouba requires 700-1000 mm rainfall for normal growth, even though it can manage well in areas with even 300 mm rainfall. The crop can withstand 6-8 months of dry spell in a year. The tree has incredible nutritional value, low demand for water and prolific growth and biomass production. As the seeds do not form a staple food source, the food for the people or food for fuel issue is argued to be not relevant. Also, the tree is able to grow in marginal lands and the leaf litter has the potential to improve the quality of the soil and is documented as having improved the size and quality of vegetable crops that have been intercropped with Simarouba.
The productive plantation of Simarouba needs to be scientifically managed for better growth and production. The growth and yield of the plant could be improved through effective management practices. The enhanced cultivation technology and improved inputs developed by CJP may provide about 4000 liters of biofuel without displacing food crop and without utilizing prime food land in terms of sustainable farming techniques
The key factors that can influence the oil yield of Simarouba are:
High-quality stock from superior

Genotype
CJP carefully manages Simarouba cultivation, with advanced crop practices suitable to local soil, weather, pest, and disease conditions to ensure the high amount of oil as we have developed enhanced technology with regards to:-
Planting materials & other inputs

Pest & Diseases management.

And finally grading for further process
The key factors governing profitability of large scale production are:
Selection of high yielding varieties with suitable marketable quality.

Sowing in a proper season, in compliance with the latest agro techniques.

Management of ratoon crops

Adoption of post harvest management.
CJP's Researchers have developed standardized techniques for growing Simarouba on large scale. CJP ensures Organic Simarouba plantation right from the land preparation, crop management to production of end product. CJP Simarouba Farms are under the vigilant supervision of agronomists, who make sure that the latest and best breed of Simarouba oleifera is being planted. However, we keep a close watch on the research results of Simarouba breeding by studying thousands of Simarouba variants, identifying and collecting the best sources of high-quality to guarantee a consistently high yield, a stem, or scion, from a tree with a demonstrated capacity to produce many pods/seeds. This not only removed the uncertainty from the yield, it also provides multiple harvests within a few months. Accordingly, the enhanced variety SRIPHL S03 with regards to seed yield and oil yield and the enhanced Cultivation techniques may ensure proper and profitable production of THE OIL CROP providing early fruition and flowering—
CJP is happy to announce the market release of New Oil Crop "Simarouba Cultivation Technology" at an affordable Price
ECONOMICS
Simarouba glauca: A Viable Biodiesel Feedstock?
The Simarouba biodiesel meets all the three criteria any environmentally sustainable fuel must meet. These are social, technical and commercial
The seeds from the Simarouba glauca tree contain in excess of 60% oil. The main use of the oil will be as bio fuel and for the production of biodiesel. This oil can also be used for cooking and soap production. Once the oil has been extracted, the seeds can be used as a coagulant for water treatment. The trees will act as sinks for carbon dioxide and, hence, the Simarouba glauca plantation will reduce the amount of this greenhouse gas (GHG) in the atmosphere. The project has many other positive economic, social and environmental impacts: There are income generation opportunities that result from the project like the provision of goods and services to the plantation and its workers
THE POTENTIAL RETURNS

As the biodiesel industry grows, honing a cost-effective and diverse feedstock supply stands out as a top challenge. There is a need to diversify the sources and methods used to generate biofuel products to achieve food security, energy security and sustainable development and carbon savings. Biodiesel producers are looking for alternative feedstocks which are non- agricultural and non-food crops. And Simarouba glauca has the ability to substitute the requirement of low cost feedstock with the potential for high oil seed production and the added benefit of an ability to grow on marginal land. These properties support the suitability of this plant for large scale vegetable oil production needed for a sustainable biodiesel industry.
Yield is a function of light, water, nutrients and the age of the Plant. Good planning, quality planting material, standardized agronomy practices and good crop management may handsomely increase the yields.
Simarouba glauca will yield at Maturity as high as +3 tons Biofuel with proper nutrition, and irrigation. This is truly an exceptional amount of oil from an agricultural crop.
ECONOMICS: SIMAROUBA : 1000 ha plantation

Production of seeds/ha tons

0

0

0

3

4

6

8

Year

1

2

3

4

5

6

7

Land under cultivation

1,000

1,000

1,000

1,000

1,000

1,000

1,000

SG Seeds (in tons)

3,000

4,000

6,000

8,000

Crude OIL

1800

2400

3600

4800

BIODIESEL

1800

2400

3600

4800

Press Cake

1830

2440

3660

4880

Glycerol

180

240

360

480

CAPITAL

Plantation

500,000

crushing

300,000

BIODIESEL

9,000,000

TOTAL

9,800,000

SALES

Biodiesel

$0

$1,350,000

$1,800,000

$2,700,000

$3,600,000

Glycerol

$0

$135,000

$180,000

$270,000

$360,000

Intercrop

60,000

60,000

$60,000

$60,000

$60,000

$60,000

$60,000

Press cake

$0

$91,500

$122,000

$183,000

$244,000

CER-Revenue (Biodiesel)

CER- Revenue (Plantation)

TOTAL

60,000

60,000

60,000

1,636,500

2,162,000

3,213,000

4,264,000

COGS

Crop care & harvesting

$0

$50,000

$50,000

$100,000

$100,000

$100,000

$100,000

Oil extraction

$64,800

$86,400

$129,600

$172,800

BIODIESEL

$252,000

$336,000

$504,000

$672,000

TOTAL

$0

$50,000

$50,000

$416,800

$522,400

$733,600

$944,800

PBT

-$9,740,000

$10,000

$10,000

$1,219,700

$1,639,600

$2,479,400

$3,319,200

TAX

-$2,922,000

-$3000

-$3000

$365,910

$491,880

$743,820

$995,760

NET

-$6,818,000

$7,000

$7,000

$853,790

$1,147,720

$1,735,580

$2,323,440
For a detailed quote for a complete and comprehensive Simarouba Biodiesel Business Plan from Farming to fuel, kindly mail to jatrophaplan@gmail.com
Simarouba Energy Project Services (SEP)
Based on our proprietary knowledge and extensive experience gained we have developed and enhanced a wide range of Products just to ensure" FAILSAFE FUEL FARM"
C J P has developed a set of SEP services with access to our own supply chain intellectual property rights (IPR) and exclusive expertise with technological background and experiences in the field for creation of your ambitious Green Energy Farm.
SEP SERVICE 1: (preliminary stage)
Land identification is a pre-requisite to development of a Project plan and to meet this requirement Pre-feasibility Study is required to be getting carried out from the competent experienced agency. We do carry out the Pre-feasibility study report for choosing the best location for your green energy Project
SEP SERVICE 2: (preparatory stage)
The formulation of business plan needs in- depth specialists from each field. CJP can offer nonfood renewable energy projects with many plans, resources and proven profitable models. Our specialty is business planning with the focus on high productivity and profitability. Getting the best business plan formation Please visit business plan page
SEP SERVICE 3: (pre-plantation stage)
Getting the best planting stock/material is the most important KEY Strategy to ensure a failsafe fuel farm. We have developed best variety called "SRIPHL MO3 "with more seeds and more oil per ha with flowering and fruiting.
We provide best seeds/plants of superior genotype
SEP SERVICE 4: (Plantation stage)
Adopting Best Practices in Agronomy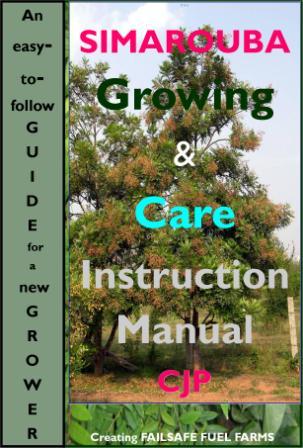 In order to achieve commercial perfection, it is crucial to understand the crop's requirements, predict its possible interactions with the environment & develop packages of practices for industrial cultivation
That's why CJP is providing low-cost Crop Cultivation Technology & Crop Care Technology which includes
Improved Agricultural Practices

Enhanced cultural practices

Going "Green" with the use of Microbial fertilizers

Fine-tuning practices to soil type, environmental conditions & labor
For further details, kindly contact:
Director (Business Development), CJP
Tele: +91-9829423333