State of Art
Small scale Biodiesel Production System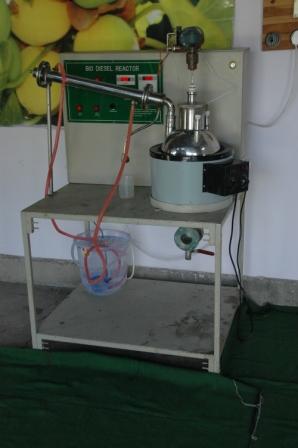 While farmers are continuing to produce safe, abundant, and affordable food, feed, and fiber, the rising cost of fuel and power making most growers to explore opportunities to save energy. A variety of programs and technologies are available to reduce energy use for different components of agriculture. We at Biodiesel Business Academy (BBA) have been engaged in finding a sustainable solution for a small farmer. A survey was conducted to accurately estimate the fuel requirement of a small farmer for growing and harvesting the crops including livestock production. Based on the findings of the survey a tiny biodiesel production system @farmers farm was designed and constructed.
BBA is happy to present an excellent System to process & produce Biodiesel at Farmers Farm to meet out daily requirement of fuel. The fuel requirement of a small farmer is estimated 80-110 liters per acre. With a population/plantation of minimum 50 trees of Pongamia Pinnata in farm or at boundary an amount of 500 liters fuel can be produced apart from enough biofertilizer for crops with marginal cost. This not only ensures climate smart farming but also provide small farmer a liberty to do things in sustainable way
State of Art Small scale Biodiesel Production at Farm
Produce your own fresh fuel directly on-farm.
BBA Oilseed Pressing and Biodiesel Reactor Systems add value to your crops by extracting oil directly on your farm. BBA Systems extract oil through natural, mechanical means, producing a high quality and stable oil that makes for an excellent on-farm fuel. We have invented a Tiny Biodiesel Reactor to produce 10-20 liters Biodiesel as per farmers daily/weekly/monthly Fuel needs.
For more mail to admin@biodieselacademy.com