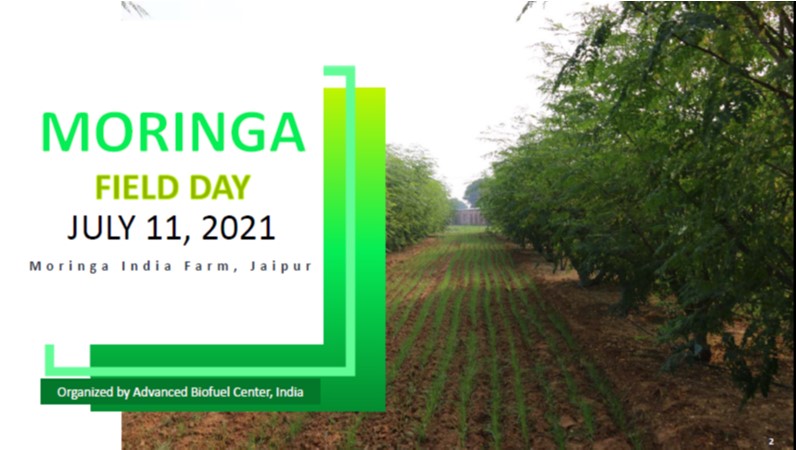 MORINGA FIELD DAY
Seeing is Believing
An On-Moringa Farm Field Day
July 11, 2021
10.00 am – 4.00pm
Moringa India Farm
JAIPUR-INDIA
The Majestic Moringa is fast making its name globally. It is the Swiss Army knife of nutrition. Moringa Oleifera, the miracle tree domesticated in Indian almost 2,000 years ago, has come a long way today to become a symbol of the fight against growing nutrition deficiency across the globe apart from also becoming a fad among the rich. A naturally occurring bio-fortified crop suited to the climatic conditions of the region, Moringa is unusually rich in its nutrition content literally from top to bottom.
Moringa Field day shall be like a live, interactive slideshow of agriculture making of Moringa from "Soil to Superfood" that touches all the participant's senses.
On Moringa Field day the Moringa India Farm is to showcase as to how to operate and maintain an organic Moringa Farm operation through scientific methods and traditional skills .
The Moringa Field Day offers a unique opportunity for anyone interested in Moringa to learn and apply General Agricultural practices and cropping systems on a farm scale that maintain or increase crop production while conserving natural resources.
Participants will be able to interact with Moringa specialists and educators, on all issues that may affect their operations. Moringa Field days have been a core part of Practical Experience when participants work together to share details of on-farm research and demonstration and learn in a spirit of openness and curiosity to learn about topics that span the Moringa agricultural spectrum. This shall enable them to create a strong, sustainable Moringa agricultural system in their farms/countries.
Typical Moringa Field Day Program Agenda
Get your hands dirty:
This unique Moringa Field day will offer a practical mix of on-farm advice, showcasing new techniques for best practice in agro ecological farming, and discuss the BURNING ISSUES that affect Moringa farming, plus much more.
Moringa Field day Participants are those from across Moringa farming and processing, with an interest in new Business models.
Program Information
 
COST: US$ 354.00, INR ₹ 11,800.00
When: 11th july 2021
TIMES: 10.00AM-4.00PM
WHERE: Moringa india farm rural jaipur
(GPS coordination shall be provided)

Registration/Booking confirmation

For Book/registration of your Moringa Farm Day, Please pre-register here
We shall send necessary registration form on receipt of your pre-registration .
Join entrepreneurial farm dynamos to find solutions, and create high-impact failsafe Moringa farm. Together, we'll leverage the collective talent and knowledge to create, improve, and work on actual projects in actual farm
As an Implementer, and Passionate Scale Up Expert as Moringa Business optimizer. ABC is transforming the Moringa Sector from concept to commercialization with its IPR knowledge, enhanced cultivar, experience and expertise in this very technical. We help clients improve decisions, sharpen their thinking and drive their business forward.
If you have any questions, feel free to contact
Dp Maharshi
President, Moringa India
+91 9829423333