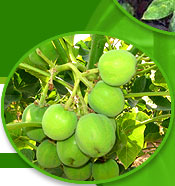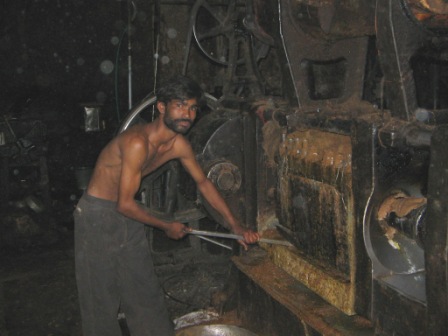 JATROPHA OIL MAKING
The yield of the seed over a defined area determines the capacity of the extraction to be set up. The extraction unit capacity is based on the amount of seed feedstock introduced into it. The seed yield, in turn, determines other key variables of production capacity of the extraction units and hence determines the fixed and variable costs of the extraction stage
Preparation of Seeds
The ripe fruits are plucked from the trees and the seeds are sun dried. They are decorticated manually or by decorticator. To prepare the seeds for oil extraction, they should be solar heated for several hours or roasted for 10 minutes. The seeds should not be overheated. The process breaks down the cells containing the oil and eases the oil flow. The heat also liquefies the oil, which improves the extraction process.
Oil can be extracted from the seeds by heat, solvents or by pressure. Extraction by heat is not used commercially for vegetable oils. The oil from Jatropha seeds can be extracted by three different methods. These are mechanical extraction using a screw press, solvent extraction and an intermittent extraction technique viz. soxhlet extraction.
Purification of Oil

The oil extracted as above can be purified by the following means:
Sedimentation
This is the easiest way to get clear oil, but it takes about a week until the sediment is reduced to 20 - 25 % of the raw oil volume.
Boiling with water
The purification process can be accelerated tremendously by boiling the oil with about 20 % of water. The boiling should continue until the water has completely evaporated (no bubbles of water vapour anymore). After a few hours the oil then becomes clear.
Filtration
Filtration of raw oil is a very slow process and has no advantage in respect of sedimentation. It is not recommended.
Oil extraction can be more effectively carried out by the improved expellers by the following methods:
Method 1: Prepressing of seeds lightly can precede oil milling. This results in higher capacity; lower power consumption, lower wear & tear and maintenance. The oil recovery is lower in this case.

Method 2: Here either in the same screw press – two-stage pressing is carried out or prepressed cake from first stage screw press in sent for second pressing to other screw press. Any kind of oil-bearing seed can be processed in oil mill, preparatory equipments are recommended prior to expelling. Pressed cake can be sold after recovering the max. Oil Hence, double pressing system is recommended.

GB Pant University has developed a decorticator for jatropha seeds. Under an MNES sponsored project, IIT-Delhi has developed a power-operated decorticator for jatropha seeds with a capacity of 150 Kg. Seeds/hr. It is operated by 2.5 HP single-phase motor. Such machines are highly useful at rural level. NOVOD has established a technology for individual farmers for decorticating jatropha seeds with a capacity of 20 Kg/hr. It is available at Rs.6, 500/- per unit.
Under the National Mission on Liquid Biofuels, NOVOD has taken initiative to support development of improved oil expellers.
At the Biotech Park-Lucknow, a 1.0-ton/day oil expeller has been installed for extraction of oil from jatropha seeds.
The disadvantages of expellers are listed as follows:
The press must operate continuously for at least eight hours; intermittent operation is unsatisfactory.

Oil from an expeller contains more impurities than oil from a batch press and must be filtered to obtain clean oil.

Maintenance costs are high and it requires skilled mechanics.
Raw oil extraction can be improved using better extraction techniques which can enhance the economics of biodiesel production.
SOLVENT EXTRACTION IS RECOMMENDED FOR PLANTATION SIZE OF > 5000 HECTARES. Solvent extraction of jatropha seeds yields the maximum seed oil that is, 37% by weight of seed, or 99% of the total available oil. Normally hexane is utilized in the solvent-extraction process
BY- PRODUCTS
Together with the oil, by-products of the production are:
The press-cake, that, thanks to its mineral contents of nitrogen (6%), phosphorous (2, 75%) and potassium (0.94%) similar to chicken manure, can be used as organic fertilizer. An application of 1 t of press cake is equivalent to 200 kg of mineral fertilizer (NPK 12:24:12).

The residual, a substance obtained from the sedimentation of the oil during the purification process in the tank. These sediments mixed and boiled with caustic soda and water are commonly used for soap production.
STORAGE
During storage, oil is likely to react with atmospheric oxygen and other environmental factors, and this may lead to a change in oil quality, particularly increase in FFAs (free fatty acids). The quality of oil may get deteriorated during prolonged storage; generally oxidative and hydrolytic rancidity occurs due to enzymes, air, and moisture.
Jatropha seeds and seed oil quality may get deteriorated on storage due to bacteria, moles, enzymatic degradation, oxidation, and hydrolysis. Therefore, it is important to understand the effect of storage conditions on quality of oil in order to optimize the economically viable storage conditions for storage of oil.
Further, following parameters are important for vegetable oil to be used for bio-diesel production.
Moisture content: The oil must be moisture-free for catalyst-based transesterification process because every molecule of water destroys a molecule of the catalyst, thus decreasing its concentration.

Free fatty acids: The FFA content should be less than one per cent. It has been observed that the lesser the FFA in oil the better is the bio-diesel recovery. Higher FFA oil can also be used but the bio-diesel recovery will depend upon oil type and amount of sodium hydroxide used.

Iodine value: The degree of unsaturated fats can be measured as IV (iodine value). High IV is preferred to lower the cloud point. However, an IV of more than 25 limits the use of oil as neat fuel due to its potential to polymerize.
BIO-OIL PLANT
Specification of model oil-cum- biodiesel plant being supplied by us
| | | |
| --- | --- | --- |
| No. | BIO-OIL MILL 3 TPD | Qty |
| 01. | Oil Expeller chamber size 22"x 4" crushing capacity 100 TO 125 kg./hr. complete | 1 |
| 02. | Round automatic cooking / feeding kettle | 1 |
| 03. | Filter press 12"x12"-14 plates complete | 1 |
| 04. | Baby boiler complete with chimney | 1 |
| 05. | Accessories i.e. pipelines, beltings, valves, pulleys, base frame etc. | 1 |
| 06. | Essential spare parts | 1 |
| 07. | Electric motor 12.5 HP, 3 phase 960 RPM with L & T make starter | 1 |
| 08. | Oil reactor with automatic digital temperature controller, heater, gear box complete with 1 HP motor made of SS 304 | 1 |
Electric motor driven Bio-oil mill:
(1) Installation is very easy. In 5 to 8 hours time, you can install the machinery and start the production of oil. Ready foundation frames will be supplied and you have to simply place the expeller and electric motor on it and connect it by V belt Foundations of any machines in ground not required.
(2) When mill is running it is very silent. There is no noise.
(3) It becomes very compact unit as there is no intermediate counter shaft. It occupies less space and you can shift the machinery very easily from one place to another as and when required.
(4) You should have 3 phase 415 volts +10% electric power connection or electric power generator.
(5) It is complete project and you need not purchase anything locally.
(6) @ 33%, you can produce 1000 liter oil from this oil mill in 24 hours.
For business enquiry, kindly contact
Business Development Officer
Centre for Jatropha Promotion
Tele: +91 141 2335839
E-mail: jatrophacurcas@gmail.com