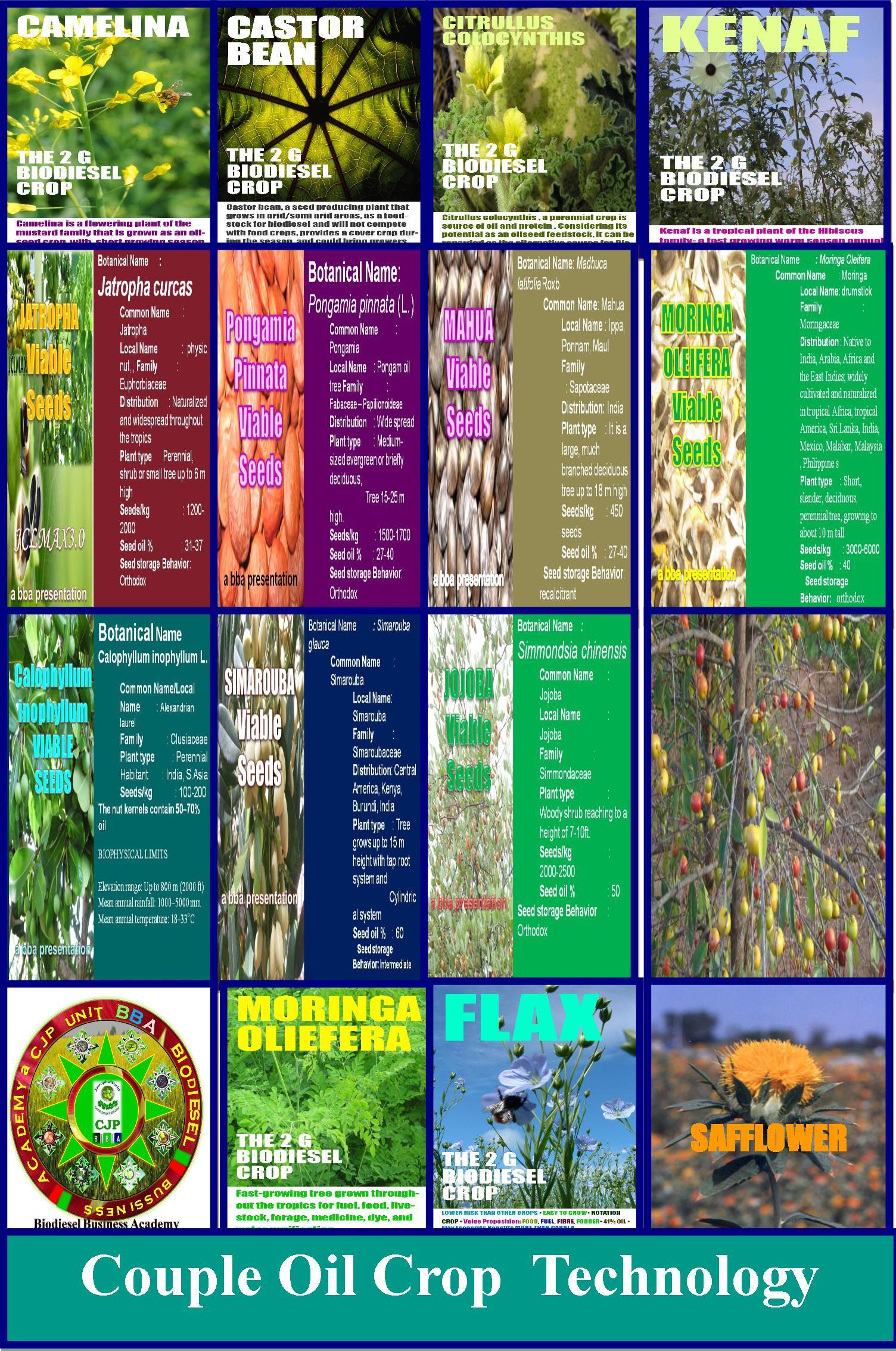 couple
oil
crop
technology
more oil per acre
without extra inputs
The Biodiesel Business Academy (BBA) is a bio-energy crops research and development company that is meeting global demand for sustainable plant oil by working towards scientific commercialization of dedicated biodiesel crops that will lend credibility; reliability and scalability. With a fully integrated platform featuring a world-class leadership and science team, the most advanced multi-feedstocks research into all aspects of nonfood energy farming crops improvement program in the industry and addressing the complete value chain, BBA is bringing the opportunities of nonfood oil to reality. A Research & Development programme on Nonfood oil crops/ oilseeds has been going on to address various researchable issues. The years of continuous research, experiments and trials have given BBA a big breakthrough in finding a Failsafe, Solid and a viable alternative feedstock for biodiesel in combination with Jatropha and other biodiesel crops
We have been promoting Jatropha since 2003 that has shown promise as alternative biodiesel feedstock because it doesn't compete with crop acres. Jatropha is a high oil-yielding perennial that grows where many food crops don't; moreover, it is a sustainable alternative to using food crops for biofuels. Jatropha and other nonfood biodiesel crops shows potential as new biofuels crops, with big new development projects and plantations involving thousands and hundreds of thousands of acres have been planned with investments of billions of dollars.
No single feedstock is likely to solve the supply issues facing the biodiesel industry. We need sustainable, cost-effective and carbon savings feedstocks like Jatropha, Pongamia, castor, Simarouba, neem, Madhuca etc.
With an effort to 'grow beyond oil ', apart from Jatropha, BBA has identified, developed and cultivated as many as 15 non-food oil crops (Dedicated Energy Crops). With years of continuing research, experiments and trials has provided an adage to find and develop 2nd generation biodiesel feedstock with low cost input technology. In a bid to develop
Our dedicated Biodiesel Crops
Calophyllum inophyllum L., (Perennial)

Camelina ( Annual)

Castorbean (Ricinus communis)

Pongamia pinnata (Perennial)

Jojoba (Perennial)

Citrullus colocynthis (Annual)

Moringa oleifera (Perennial)

Flax (Annual)

Mahua (Madhuca indica) (Perennial)

Kenaf (Annual)

Simarouba glauca (Perennial)

Indian mustard (Annual)

Garcinia indica (Perennial)

Moringa annual

JATROPHA CURCAS (Perennial)

Safflower (Annual)
We have been in search of such an inter-crop for designated biodiesel crop which should be oil bearing like itself without competing with it for food and water and should be capable of fulfilling other crop fertilizer requirement and still maintaining soil fertility i. e. is a right oil crop that is planted in the right way with dedicated energy crop and with due care to what's possible in terms of sustainable farming techniques
We have been experimenting different interplating options, patterns and agro- technologies focusing our analysis on the a number of primary non-food sources of biofuels — Jatropha, Jojoba, Castor, Pongamia, Moringa, Simarouba and many more — and details the amount of each type of feedstock that could be sustainably produced and utilized across the globe without compromising the fertility of agricultural soils, displacing land needed to grow our food, or threatening the health of our farms and forests.
Scientist at BBA are experimenting two types of alternative cropping systems and associated management practices that might be used to generate large amounts of biofuel feedstocks while better protecting environmental quality and ensuring food security. A mix of perennial trees and annual crops could offer the best chance to produce a sustainable biofuel, according to the finding of scientists working at BBA.
In the biofuels business, establishing the feedstocks for advanced biofuels is crucial for commercial development, given that the largest cost associated with production is for the feedstock. Just to make Investors more comfortable and knowledgeable for second-generation nonfood biofuel feedstocks to select right Couple oil crops mean two or more crops in same area of land and with little same inputs.
The years of continuous research, experiments and trials have given BBA a big breakthrough in finding a Failsafe, Solid and a viable alternative feedstock for biodiesel in combination with more than one crop technology that will be a make-or-break factor for the success of future second-gen biofuel. If they have a strong story and the right technology including a clear proof of concept, roadmap to profitability, strong strategic partners and adequate and inexpensive access to feedstock, there is definitely appetite out there and by adopting Couple Oil Crop Technology they can equip themselves to eliminate "some week elements in their business model just to ensure the Future path to profitability.
couple oil crop technology
(COCT)
Having regards to the debate Fuel vs. Fuel and indirect land use change, we released first ever COCT Technology with regards to Jatropha in 2009. After that the years of research has resulted in commercialization of COCT. Conceptualizing our objective more oil per acre we have successfully field tried the technology and now we hope to cultivate +1400 gallon oil per hectare adopting our concept of couple oil crops
Every dedicated energy crop has its agronomy requirement and Biophysical limits with regards to
Growing cycle and growing period

Radiation

Temperature

Rooting

Water quantity/quality

Nutrients (NPK)

Salinity

Sodicity

PH, micronutrients and toxicities

Pests, diseases and weeds

Flood, storm, wind and frost
Do you know how a Couple oil systems are valuable in your Fuel Farm Model? When two or more crops are grown together, each must have adequate space to maximize cooperation and minimize competition between the crops.
To accomplish this, four things have been considered after different trials and tests:
1) Spatial arrangement,
2) Plant density,
3) Maturity dates of the crops, and
4) Plant architecture as per the crops agronomy requirement and Biophysical limits
Spatial Arrangement
Row interplanting
Strip Interplanting
Mixed Interplanting
Relay Interplanting
Plant Density
To optimize plant density, the seeding rate of each crop in the designated crop area is adjusted below its full rate. If full rates of each crop were planted, neither would yield well because of intense overcrowding. By reducing the seeding rates of each, the crops have a chance to yield well within the designated crop area. The challenge comes in knowing how much to reduce the seeding rates.
Maturity Dates
Planting Couple oil crops that feature staggered maturity dates or development periods takes advantage of variations in peak resource demand for nutrients, water, and sunlight. Having one crop mature before its companion crop lessens the competition between the two crops.
Plant Architecture
Plant architecture is commonly used strategically to allow one member of the mix to capture sunlight that would not otherwise be available to the others.
COCT offers farmers the opportunity to engage nature's principle of diversity on their farms. Special arrangements of plants, planting rates, and maturity dates should be considered when planning COCs. Couple oil crops are more productive than growing pure stands. Many different COCT systems are discussed including mixed Oil crops, strip cropping and traditional COC arrangements. Pest management benefits can also be realized from COCT due to increased diversity. Harvesting options for Couple oil crops include hand harvest, machine harvest for on-farm feed, and animal harvest of the standing crop.
Table of Contents
Principles

Pursuing Diversity on the Farm

COCT Concepts

Couple oil crop Productivity

Managing Couple oil crops

Examples of Couple oil crop Systems

Escalating Diversity and Stability to a Higher Level

Escalating Diversity and Stability to an Even Higher Level

COCT for Disease Control

Cost Benefit ratio

Business Plans Brief

Adapting COCT to Your Farm
Price: ?
Payment: By PAYPAL
Delivery: by DHL
For more information Latest Price and order kindly contact
Contact
Director, Plant Science, CJP,
E-mail: jatrophaplan@gmail.com
Or call H/P: +91 9413343550