conultation with
dp maharshi
moringa farm & business
interaction with dp maharshi
actionable advice in setting moringa farm for leaf/seed oilproduction & value addition
1 hr I US$ 261
Connect & Interact with Dp Maharshi on a Private Zoom Video Conference.

DP Maharshi is the PRESIDENT MORINGA INDIA, Founder, CEO, Advanced Biofuel Center, chartered Expert, Educator, Global Consultant, an Implementer, and Passionate Scale Up Expert as Moringa Business optimizer, introduced separate technology and cultivars for moringa farming for leaves and for seeds with unveiling of WORLD-FAMOUS varieties MOLE AND MOMAX3 MORINGA SEEDS.
Dp Maharshi founded Global Moringa Knowledge platform popularly known as GLOBAL MORINGA MEET and its 8th edition is scheduled in coming November.
He at ABC is transforming the Moringa Sector from concept to commercialization with its IPR knowledge, enhanced cultivar, experience, and expertise in this very technical. We help clients improve decisions, sharpen their thinking, and drive their business forward.
Ask questions about setting up your Moringa Farm and Business.New growers/Project developers have a lot of questions about Moringa Agriculture development. What are appropriate strategies to expand the use of Moringa describing limitations of the use of Moringa for agricultural development, especially nutrition enhancement and economic development. So, ask to the Implementer, and Passionate Scale Up Expert as Moringa Business optimizer Mr. Dp Maharshi, founding chair of the ABC, India, to get answer with authority.
ABC is currently helping others achieve success in the emerging world of Moringa, As a Grower, project developer, or Investor, expect professional feedback and an opportunity to further your project with the best scientific tips, Dp Maharshi has learned, acquired while working with Moringa with a more than decade long experience. He cultivates conversations with the brightest minds in the field, including innovators, entrepreneurs, and researchers, who are discovering, developing, and deploying leading-edge technologies to address Moringa Industriess key challenges.
We deliver knowledge, insight, transparency, and efficiency as Moringa production needs innovation for better solutions with better inputs (technology, information, fertilizers, seeds, and crop management). To provide solutions for this highly specialized sector, we have developed a unique and comprehensive package of top variety seeds and services for the benefit of Moringa grower/project developers.
As Moringa is poised on the cusp of commercialization, Moringa investors have stepped up their efforts to develop a viable Moringa Industries, and some are already well on the road to success. However, with so many new projects coming up, and a lack of understanding of the Moringa Oleifera Plant and reliable information; lack of quality inputs; lack of Best Agricultural Practices and expertise & poor management techniques; many projects are only achieving mediocre results.
Our mission is to make your Moringa endeavor successful by connecting you with our worlds top professionals with the world's best knowledge. Corporations, consultancies, investment firms and non-profits rely on ABCs effective and intelligent advice with knowledge just to sharpen their thinking, make decisions and drive business forward.
Our interact with our clients enabling effective thinking. A direct interaction with relevant knowledge-holders enables our clients to address a variety of Moringa business challenges. Whatever Moringa industries, market, or geography, we typically tend to help clients to create a successful Moringa Business by Identifying best practice:
During the course of 1 hour, Dp Maharshi will strategically formulate certain guidelines for your project to help execute any goals you may want to attain.
One of the most important qualities of every successful Moringa farm manager is setting SMART goals. The SMART stands for the following five characteristics:
1. Specific: A specific goal is well-defined and therefore, be very Specific: Clearly define what you want to accomplish.
2. Measurable: For a grower, setting the goals which can be measured, Keep goals realistic and manageable.
3. Assignable (or attainable): In order to make sure that the goal will be realized, every successful farm manager will determine a person responsible for its realization.
4. Realistic (or relevant): It is extremely important that business goals are achievable. In response to that, when setting a goal, a grower should carefully consider his current business situation.
5. Time-bound: The goals must be defined within a time frame.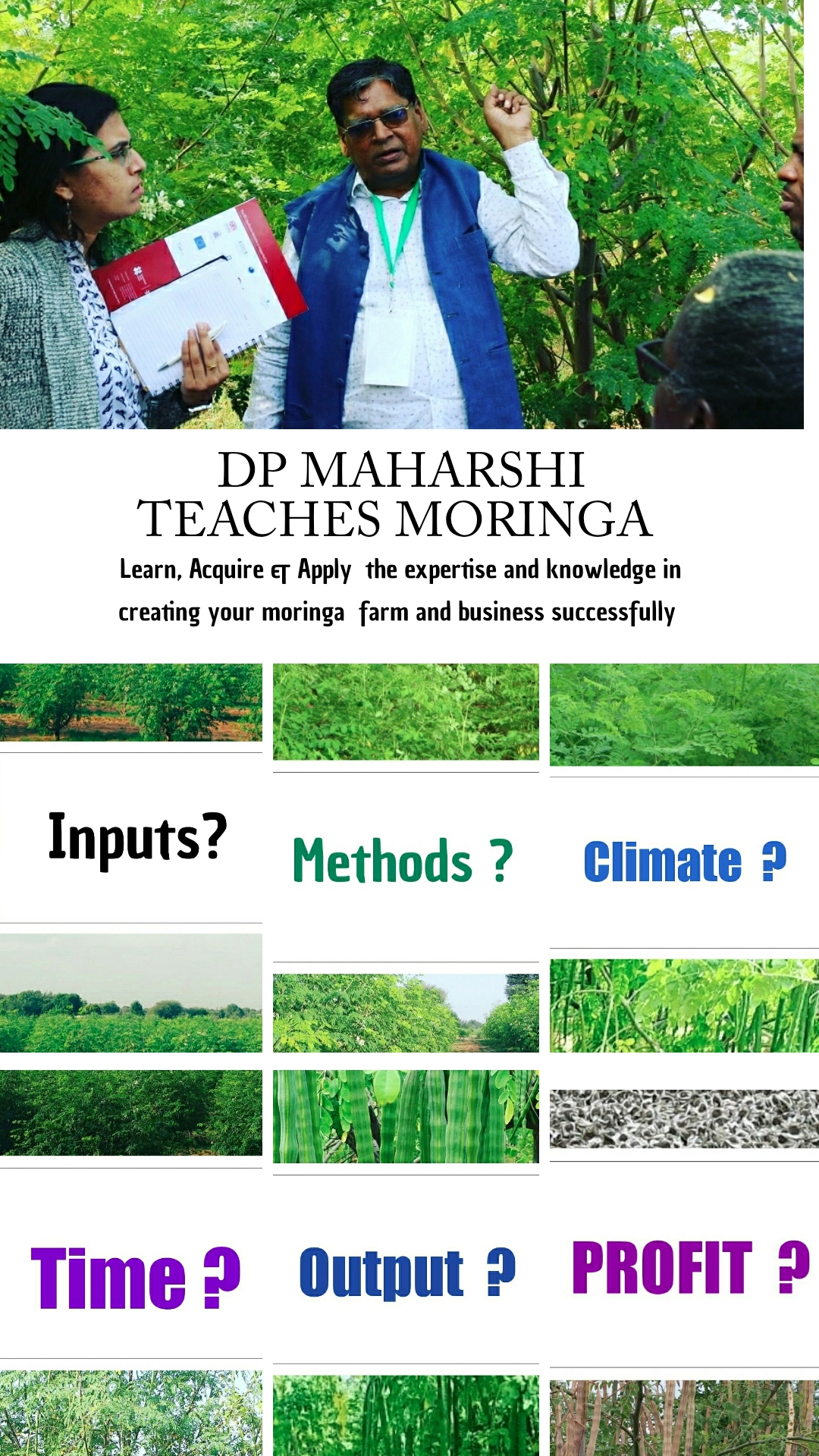 Moringa India have laid down Design Principles for a Profitable, Productive, & Sustainable Moringa Farm.Known as the gold standard in the Moringa Industry, based on research and professional experience MORINGA INDIA offers Best Moringa Care Practices for leaves Production.
Dp Maharshi will be able to provide scientific, logical and truth-based recommendations on business-appropriate suggestions based on the conversation and offer solutions, with an emphasis on creating your ambitious FAILSAFE Moringa venture just to visualize and realize your dreams.
Based on ABC proprietary knowledge and extensive experience gained, the ABC has developed and enhanced a wide range of Products just to ensure "FAILSAFE MORINGA FARM"
ABC can offer Moringa based projects with many plans, resources, and proven profitable models. The ABC specialty is business planning with the focus on high productivity and profitability. ABC use its proprietary knowledge to implement programmes through its technology and IPR resulting in new industry, job creation and the offsetting of climate change.
It should be underlined here that ABC is the first organization around the globe to introduce commercial farming of Moringa and have formulated the concept of commercialization of viable Moringa projects and carried out evaluations and various studies for the international bioenergy organizations. Commercial work of ABC includes dissemination and demonstration activities, training, and seminars, as well as consultancy activities such as feasibility studies, crop care and due diligence evaluations for the Moringa Food+Fuel industry worldwide.
Thank you very much for your interest and consideration in consulting with Dp Maharshi, he is very excited to help as many people as possible and is looking forward to meeting you soon. Greetings!!!
Book Consultation with dp maharshi
1 hr
$261
Book Now